Primeira Sessão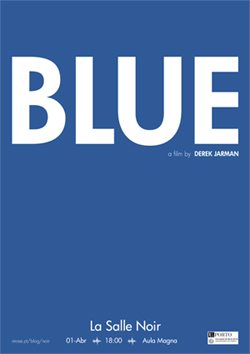 Blue, Derek Jarman, 1993 (USA)
(audio em inglês/ english audio)
Dia 15 de Abril, 18 horas na Aula Magna
Filme póstumo do poeta, pintor e cineasta Derek Jarman, filmado quando sua saúde já estava bastante debilitada em decorrência da AIDS. Um filme monocromático inspirado nas idéias do pintor francês Yves Klein e em reflexões pessoais sobre a arte, a poesia, memória, tempo e a morte. As seqüências foram inteiramente rodadas com uma câmera diante de uma tela azul, com ruídos de hospital ao fundo misturado com a trilha experimental de Simon Fischer Turner.
________________________
15th April, at 6 p.m. at Aula Magna
Posthumous movie of the poet, painter and filmmaker Derek Jarman, shot when his health was very weak due to AIDS. A monochrome film based on the ideas of French painter Yves Klein and personal reflections of art, poetry, memory, time and death. The sequences were made with a camera in front of a blue screen with the background noise of hospital mixed with experimental track by Simon Fischer Turner.
.