Fellini & Nino Rota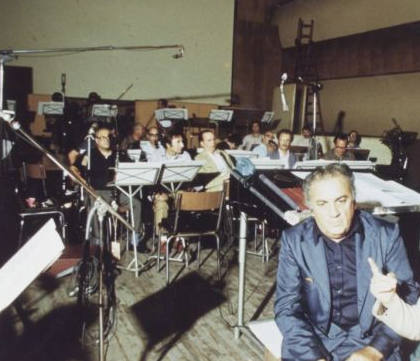 Nino Rota (1922-1979) terá ficado mais conhecido do público-geral quando a sua música foi usada na trilogia do Padrinho de Francis Ford Coppola. Contudo já em vida, as suas composições tiveram sempre uma grande relação com o cinema:
"As criações de Rota para Fellini também reflectem mas com o seu próprio ritmo, a metamorfose caleidoscópica existente dentro da visão do realizador."* (Royal S. Brown)
Em Giulietta degli spiriti, a música de Nino Rota é composta por uma colagem declarada entre vários ritmos e sonoridades que criam várias camadas. Assim como a imagem está sempre num campo e contra-campo entre a fantasia e a realidade, o som vai reflectir isso mesmo precisamente através de uma colisão demarcada de ritmos diferentes   que pretendem traduzir o confronto e desconforto interior da personagem principal. A existência de dois mundos, de uma dualidade dentro de Julieta, está presente numa música que ora é acelerada, ora é mais calma, mais festiva, mais pesada e dramática, semelhante a uma marcha, como um bailado clássico calmo. Parecem sucessivos cortes e colagens de pequenas peças que nunca parecem ser concluídas mas que se ligam entre si.
*(trad.livre)
________________________
Nino Rota (1922-1979) is more known for the public in general because his music was used in the trilogy of the Godfather of Francis Ford Coppola. However already while still alive, his compositions had always a great relation with cinema.
"Rota's Fellini scores also reflect, but in their own rhythms, the kaleidoscopic metamorphoses within the director's vision."(Royal S. Brown)
In Giulietta degli spiriti, the music of Nino Rota is a collage declared between some rhythms and noises that create some different layers.As well as the image is always in a field between the fantasy and the reality, the sound reflect exactly this with a precise and demarcated collision of different rhythms that intend to translate  the interior confrontation and discomfort of the main character.The existence of two worlds, of a duality inside of Julieta, is present in a music that however is sped up, however is calmer, more festive, heavier and dramatic, similar to a march, as calm a classic ballet.They seem successive cuts and colagens of small parts that never seem to be concluded but somehow that they unite between themself.