Giulietta Degli Spiriti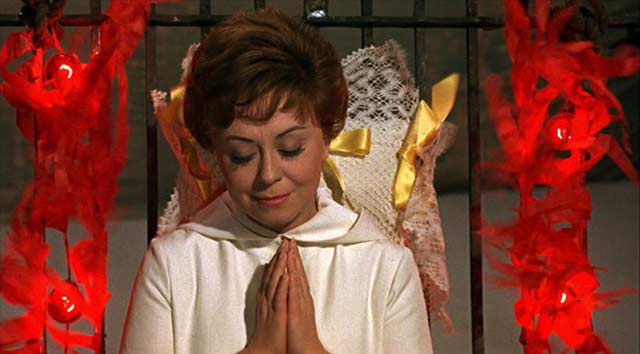 "O psicanalista Ernest Bernhard fez-me perceber que a vida dos sonhos não é menos importante que a nossa vida quando estamos acordados, especialmente para o artista." Fellini*
"Eu acredito em tudo; não há limite para a minha capacidade para surpreender (…). A Arte do cinema é particular adepta de perfurar a realidade diária e revelar outra, metafísica e ultra-sensorial." Fellini*
Giulietta Degli Spiriti foi um filme concebido no verão de 1963-64 para, dizem as más línguas, dar um papel de protagonista a Giuletta Masina (mulher de Fellini) que há muito não fazia parte de um filme de sucesso.
Este foi a primeira longa-metragem a película a cores de Fellini.
Julieta (Giulietta Masina) é uma dona de casa que é surpreendida pelas visões que começa a ter fruto das inseguranças da sua relação matrimonial e de uma crescente curiosidade pela sua excêntrica e sexual vizinha.
O limite entre a realidade e a fantasia é ténue e as visões que Julieta tem, vão ganhando cada vez mais corpo na sua vida. A dualidade entre os seus desejos  internos e a realidade,  subconsciente e consciente, sagrado e profano, levam Giuletta confrontar-se com as suas próprias visões e sonhos, experimentando um turbilhão de excentricidades fora da sua personagem.
A música de Nino Rota é composta precisamente através de uma colisão demarcada de dois ritmos diferentes que pretendem traduzir o confronto interior da personagem principal. Nino Rota ajuda assim a criar o ambiente de fantasia surrealista e freudiano que sempre foram acompanhando os filmes de Fellini; considerado por muitos um dos mais influentes realizadores do século XX.
* (trad. livre)
________________________
"Ernest Bernhard, the Jungian psichoanalyst,…made me grasp that our dream life is no less important than our waking life, especially for the artist."
"I believe everything; there's no limit to my capacity for surprise. (…) The art of cinema is particularly adept at perforating daily reality and revealing another, the metaphysical, the ultra-sensory."
Giulietta Degli Spiriti was made in the summer of 1963-64 to give Giulietta Masina (Fellini's wife) a main role in a film of sucess (which she hasn't made in a while).
This was the first color film by Fellini.
Juliet (Giulietta Masina) is a housewife that is surprised by the visions she starts to experience because of her insecurities towards her marriage and because of her rising interest on her excentric and sexual neighbor.
The limits of reality and fantasy are thin and the visions that Juliet have beguin to increase in her life. The duality between her own personal desires and, reality, subconscious and conscious, sacred and profane, take Juliet to confront with her own visions and dreams, experiencing a lot of excentricities out of her character.
The music of Nino Rota is composed by demarcated collision of two different rhythms that want to translate the interior confrontation of the main character. So, Nino Rota helps to set the surrealist enviroment that always follow Fellini's cinema. In dee, Fellini, is considered by many, one of the most influent filmakers of the 20th century.