Sétima Sessão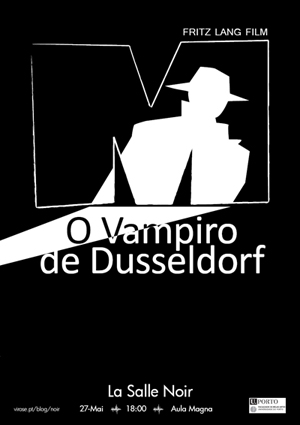 M – O vampiro de Dusseldorf, Fritz Lang, 1931 (ALEMANHA)
110 min
(audio: alemão com legendas em português / german audio with portuguese subtitles)
Dia 27 de Maio, 18 horas na Aula Magna
Um serial killer assusta a cidade alemã de Dusseldorf matando crianças indefesas. Escapa da polícia, mas não das mãos de organizações criminosas pertencentes ao submundo local. O ator Peter Lorre, com um desempenho excepcional, celebrizou-se por este papel. É o primeiro filme falado do diretor alemão Fritz Lang, que dois anos depois se mudaria para os Estados Unidos.
________________________

27th May, at 6 p.m. at Aula Magna
A serial killer scares the German city of Dusseldorf killing defenseless children. Scapes from police, but not from the hands of criminal organizations belonging to the local underworld. The actor Peter Lorre, with an exceptional performance, is famous for this role. It is the first talkie of the German director Fritz Lang, who two years later was to change the United States.