Sexta Sessão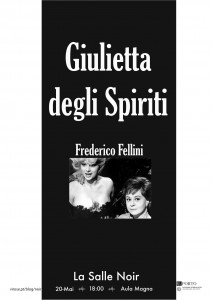 Giulietta Degli Spiriti, Federico Fellini, 1965 (ITA/FRA/ALEMANHA)
118 min
(audio: italiano com legendas em português / italian audio with portuguese subtitles)
Dia 20 de Maio, 18 horas na Aula Magna
Julieta (Giulietta Masina) é uma dona de casa que é surpreendida pelas visões que começa a ter fruto das inseguranças da sua relação matrimonial e de uma crescente curiosidade pela sua excêntrica e sexual vizinha. Em Giulietta degli spiriti a música de Nino Rota ajuda a criar o ambiente de fantasia surrealista e freudiano que sempre foram acompanhando os filmes de Fellini; considerado por muitos um dos mais influentes realizadores do século XX.
________________________

20th May, at 6 p.m. at Aula Magna
Juliet (Giulietta Masina) is a housewife that is surprised by the visions she starts to experience because of her insecurities towards her marriage and because of her rising interest on her excentric and sexual neighbor. In Giulietta degli spiriti the music of Nino Rota helps to set the surrealist enviroment that always follow Fellini's cinema. In dee, Fellini, is considered by many, one of the most influent filmakers of the 20th century.