Quarta Sessão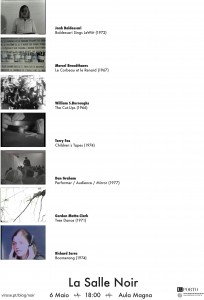 Jonh Baldessari, Baldessari Sings LeWitt (1972)
Marcel Broodthaers, Le Corbeau et le Renard (1967)
William S.Burroughs, The Cut-Ups (1966)
Terry Fox, Children´s Tapes (1974)
Dan Graham, Performer/ Audience/Mirror (1977)
Gordon Matta-Clark, Tree Dance (1971)
Richard Serra, Boomerang (1974)
Dia 6 de Maio, 18 horas na Aula Magna
Os vídeos escolhidos para esta Sessão tentam de um modo abrangente dar uma visão sobre os inícios desta prática no contexto artístico da década de 60 e 70, tentando assim focar o modo como apareceu o vídeo, visto tratar-se de um meio completamente novo apesar das reminiscências com o cinema. Pretende-se reflectir sobre como este meio tem vindo a alterar a produção artística até aos dias de hoje. Será importante salientar que muitos dos exemplos de vídeo arte deste tempo foram influenciados por uma tecnologia de informação levantando questões sobre o poder de manipulação dos media mas também ligados à performance, a uma experimentação do corpo e dos espaços.
A ideia é reunir uma série de exemplos diversos permitindo uma análise mais transversal daquilo que foram os inícios do vídeo de modo a ter consciência do seu posicionamento no contexto da arte.
________________________
6th May, at 6 p.m at Aula Magna
The videos chosen for this session try to give a wide vision about the beginning of this practice in the artistic context of the 60´s and 70´s, trying to focus in the way that appeared on video, being a complete new way despite of the reminiscent with the cinema. Seek to reflect about the way that this form of media has been altering the art production until our days. It will be important to stress that many of the examples in video art from this time have been influenced by a technological information, raising questions about the power of media manipulation, but also linked to performance, a experimentation of the body and of the spaces.
The idea is to reunite one series of many examples, allowing a transversal analise of the beginnings of this media to acquire conscience of his positioning in the art context.