Segunda Sessão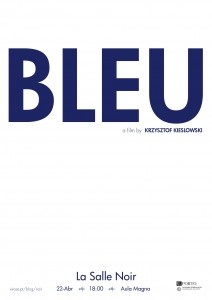 Trois couleurs: Bleu, Krzysztof Kieslowski, 1993 (FRA)
94 min

(legendado em português / portuguese subtitles)
Dia 22 de Abril, 18 horas na Aula Magna
O cineasta polaco Krzysztof Kieslowski empreendeu em 1992 uma triologia Trois couleurs: bleu, rouge, blanc, considerados hoje uma obra única na história do cinema. Cada uma das cores simboliza um dos ideais da revolução francesa: azul liberdade, vermelho fraternidade e branco igualdade. Em Bleu, Julie (Juliette Binoche) perde o seu marido, um grande compositor, e a filha Anna num acidente de carro. Sozinha ve-se obrigada a começar uma nova vida.

________________________

22th April, at 6 p.m. at Aula Magna
The polish film-maker Krzysztof Kieslowski started at 1992 a trilogy called Trois couleurs: bleu, rouge, blanc (Three colors: blue, red, white) which today some say it's unique in film history. Each colour represents one of the french revolution's ideals: blue is for freedom, red is for fraternity and white for equality. In Bleu, Julie (Juliette Binoche)'s husband (a great composer) and their daughter Anna are killed in a car accident. By her self, she is forced to start a new life.

.